Wither



Type

Hostile

Health

600 (x300)

Damage Dealt

Drops

First Appearance

Update 0.16.0
The Wither is a three-headed Hostile Mob added in Update 0.16.0. It was the first boss mob to be added to Minecraft Bedrock Edition.
Spawning
Behavior
Once the Wither is spawned, it will remain dormant for a few seconds, then release a powerful explosion that can destroy Obsidian. After this explosion, the Player can attack the Wither. It is immune to both Lava and Fire.
When the Wither has above half health, it can be attacked using both melee and ranged attacks. It hovers at a height and shoots Wither Skulls which inflict the Wither II Status Effect to any Mob (except Undead Mobs) and the Player.
Bedrock Exclusive: When below half health, the Wither will cause an explosion, spawning 3-4 Wither Skeletons and generating a Wither Shield around itself, making itself immune to Arrows. It will also start to regen health. In this stage, it will shoot both Wither Skulls and perform a Dash Attack in which it will make its body flat and charge at the Player.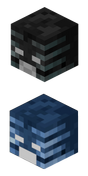 Wither Skull
There are two types of Wither Skulls:
Black Wither Skull – The Black Wither Skull cannot destroy blocks with a Blast Resistance above 20.
Blue Wither Skull – The Blue Wither Skull moves slower than the Black Wither Skull but it can destroy all blocks (except Bedrock, Barrier Blocks and End Portal Frame).
Combat
Being the strongest Mob, a lot of preparation is required for fighting the Wither. Enchanted Diamond equipment is recommended, alongside Potions of Regeneration and Healing, and Golden Apples.
A Diamond Sword enchanted with Smite V is very effective as it deals extra damage to the Wither, as it is an Undead Mob.
Trivia
The Wither has more health than any other mob in Minecraft.
Unlike other versions of Minecraft, the Wither was added before the Ender Dragon.
The Wither cannot spawn naturally, it must be assembled, like Iron Golems and Snow Golems.
The Wither was the first boss added to Minecraft.
A likeness of The Wither appears on four sides of Chiseled Red Sandstone.
It attacks all Mobs except for undead Mobs.
TNT can be ignited by Wither Skulls that are shot by the Wither.
It is possible to craft the Wither by orienting the "T" upside down or on its side.
Mobs which can apply status effects on the Player include (listed in order of addition to Minecraft): Cave Spiders, Wither Skeletons, Witchs, Strays, Husks, Withers, Elder Guardians, and Shulkers.
Community content is available under
CC-BY-SA
unless otherwise noted.