Connection to the wiki
Hello !
As I said I am Kayli. I was the Head Admin of the WikiCraft server that was run by Dblcut3.
Friends
Some of my buddies, pals, allies....people I hate less the others (JK)
Some Dude Who Drinks Wendy's Lemonade
Contact me!
So I am a very easy person to find and contact.
Email: heyitskaylikat@gmail.com
Twitter/Instagram/DA/Discord: HeyItsKayliKat
Facebook: Kayli Alexis
Who I Am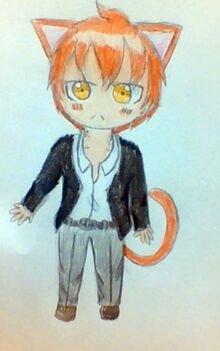 As I said earlier again XD, I am Kayli. I am a 16 yr old, high school student, with a love of many things, such as anime and games and such. I am ADDICTED to Assassination Classroom...Mainly Karma (Insert Neko Karma) as well as BNHA and Haikyuu!!
I am a huge vocaloid fan which is Japanese pop music, and I love cats. I am a very strange person. My moods change depending on the days. Mostly, I am upbeat, but everyone has their bad days.
If you ever need to talk about anything, you can message me on my message wall, or by any of my contacts (The best ways to reach me are Twitter and Instagram :3)
Wikis
Wiki's I edit, or go on.
MCPE Wiki - (Normal User)
Minecraft Future Ideas Wiki - (Discussions Mod)
Creepypasta Wiki - (Normal User)
Vocaloid Wiki - (Normal User)
Minecraft PC Wiki - (Chat Mod/Rollback)
Assassination Classroom Wiki - (Normal User)
School Live Wiki - (Normal User)
Mystic Messenger Wiki - (Normal User)
Drawings
I draw alot, so i'll put some on my fave drawings here! =D