Trapped Chest



Type

Block

Tool Used

Stackable

Yes (64)

Luminosity

None

Transparency

Translucent

First Appearance

Update 0.13.0
Trapped Chests are Redstone-related Blocks that were added in Update 0.13.0.
Obtaining
Trapped Chests can be obtained by Crafting them in a Crafting Table.
Crafting
Usage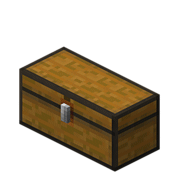 Trapped Chests are similar to Chests, as they can be used for storage, but send out a Redstone signal when opened. They are mainly used as Redstone components.
When opened, it generates a signal as strong as the number of Players accessing the chest (maximum 15); when hooked to other Redstone contraptions, it can trigger events and thus create traps, griefing Tools, and other events.
Trivia
Before Update 0.14.0, Trapped Chests could not be made into double chests.
The difference between the textures of the Trapped Chest and Chest is that the rectangle around the buckle is slightly more red in color in Trapped Chests.
Trapped Chests and ordinary Chests can be placed next to each other without being transformed into double chests.