Potato



Type

Food

Hunger Restored

Stackable

Yes (64)

Placeable

Yes (On Farmland)

First Appearance

Update 0.8.0
Potatoes are a type of Food crop added in Update 0.8.0.
Obtaining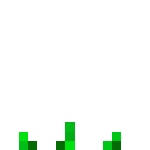 Potatoes can be found naturally in Villages, and are occasionally dropped by Zombies upon death. They can also be obtained by Farming them.
Smelting
1 Potato + Any Fuel => 1 Baked Potato
Usage
Potatoes can be replanted, or eaten restoring 1 Hunger point (

). They can also be baked in a Furnace to make a Baked Potato. They can be used to breed Pigs or to make them follow the Player.
As of Update 1.0.4, Potatoes can be Traded with Villagers for Emeralds.
Trivia
If harvested with a Fortune Enchanted tool, the maximum drop will increase along with the level of the enchantment.
Unlike Wheat and Beetroots, Potato crops do not drop Seeds after harvested but the Food itself, like Carrots.
Poisonous Potatoes are a variant of Potatoes, which the Player might obtain when harvesting Potatoes or as a Zombie Drop. However, these poison the Player instead of replenish Hunger.
Since breaking a planted Potato drops the Potato as an item, the Player can easily multiply their Potato stock using Bone Meal to instantly grow the crop.
Villagers have the ability to pick up dropped Potatoes.