Obi-Wan Finale - The Loop
Play Sound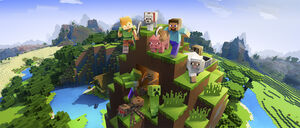 Minecraft is one of the world's most popular games allowing the Player to build and play in a block-based world. In addition to building, the Player can also explore, gather resources, craft and combat.[1].
As of September 20, 2017, with the Better Together Update[2] Minecraft does no longer refer to the Java Edition but to the version of Minecraft based upon the Bedrock codebase, which has given name and topic to this wiki: Minecraft Bedrock Wiki. This version was formerly known as Minecraft Pocket Edition or unofficially, MCPE for short.
Main versions or editions
There are three versions of Minecraft, listed below:
Java Edition

This used to be the main version before Update 1.2 and is still what a lot of people think about when hearing Minecraft. This version is written in Java, and as such has been reversed engineered and loads of mods and plugins have been developed for this version. This wiki does not describe any of these features, and the reader is advised to go to https://minecraft.gamepedia.com for more information on this version.
Bedrock

This wiki is dedicated to the Minecraft version based upon the Bedrock codebase. This version is programmed in C++ and is available for a multitude of platforms including iOS, Android, VR, Xbox One, and Nintendo Switch. Since the Bedrock engine is a full rebuild different from the Java Edition, there is a noticeable difference between Bedrock and Java edition. A full list of exclusive features for Bedrock may be seen at Pocket Edition Exclusive Features.
Legacy Console Edition

4J Studios has developed another major version available for the legacy consoles, which include older Xbox console (like the Xbox 360), Sony's platform with PlayStation 3 and PlayStation 4, New Nintendo 3DS, and Wii U. Previously this was the only version available for Xbox, but with the Better Together Update (aka Update 1.2) Xbox One has been included in the Bedrock family. Sony is still refusing to join in.
Releases
In the infobox is the current versions described, and below is the first (and former) releases listed.
First Releases
Minecraft was released on the following dates for various devices[3]:
Former versions
These platforms are no longer supported.
Trivia
Amazon Fire TV is the first system to allow controller support for Minecraft.
Note that throughout this site, references will exist for some time to Minecraft Pocket Edition, when formally they should be changed to Minecraft or in some cases Bedrock or Java Edition when appropriate.
A version for Hololens has also been announced but has not been released.
References