Evokers are Hostile Mobs added in Update 1.1
Spawning
Evokers spawn naturally in certain rooms of a Woodland Mansion. They will not respawn after their initial spawn, thus there are a limited number of them per mansion.
Behavior
Evokers attack the Player, Villagers and Iron Golems within a 16-Block range.
Offense
The Evoker has two attacks - a Fang Attack and Vex Summoning.
Fang Attack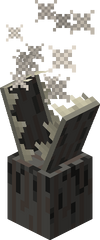 The Evoker signals this attack by producing mauve smoke and a deep horn-like sound. A number of fangs rise out of the ground, then snap shut and vanish. These deal



Hearts of damage to all Mobs.
This attack has two forms: offensive and defensive. The offensive form is used if the target is more than three blocks away, the defensive form if they are closer.
Vex Summoning
The Evoker signals this attack by producing off-white smoke and a higher-pitched horn-like sound. Between 2 and 4 Vexes appear nearby.
Combat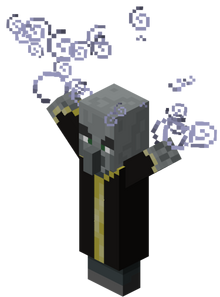 Wearing Diamond Armor makes the Evoker's attacks almost negligible, and makes it possible to use a strong melee weapon, like a Diamond Sword. However, if health is low and Armor is not available, a Bow is recommended.
Trivia
Evokers are one of two Illagers - the other being the Vindicator.
Evokers are the only mob that can spawn a completely different mob that does not exist anywhere else, the Vex.
The Evoker was originally going to wear a hat, similar to the Husk. This can be seen in "meet the Evoker".

Easter Egg:

If an Evoker is not engaged in combat, it'll change the color of any nearby (within a 16 block radius) blue sheep to red. It will signal this by producing golden colored smoke.

The Evoker will also make a "wololo" sound while performing this spell.
This is a reference to Age of Empires.
This will not happen if /gamerule mobgriefing is set to false.