Cocoa Beans

The Stages of Cocoa Beans

Type

Block

Tool Used

Any

Stackable

Yes (64)

Luminosity

None

Transparency

Translucent

First Appearance

Update 0.9.0
Cocoa Beans are Blocks that were added in Update 0.9.0.
Obtaining
Cocoa Beans can be found growing naturally on Jungle Trees in various stages of growth. Fully grown Cocoa Beans will yield more Cocoa Beans when broken.
Crafting
Usage
Cocoa Beans are used to craft Cookies, as well as serving as brown Dye.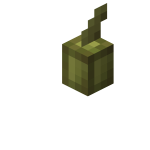 Trivia
Cocoa Beans cannot be eaten.
Before Update 0.16.0, Cocoa Beans could be crafted using Ink Sacs, Dandelion Yellow and Rose Red.
They can be planted on the sides of the Jungle Wood blocks making up Jungle Trees.
Their texture becomes progressively darker as they grow in size.
They can only be found in Jungle Biomes.