Chest



Type

Block

Tool Used

Stackable

Yes (64)

Luminosity

None

Transparency

Translucent

First Appearance

Update 0.4.0
Chests are Blocks added in Update 0.4.0.
Obtaining
Chests can be obtained through Crafting.
Since Update 0.9.0, Chests spawn naturally in Generated Structures like Strongholds, Nether Fortresses, End Cities, Dungeons, Woodland Mansions, and Shipwrecks.
When spawned naturally, they can contain valuable Items like Ores, Food, Tools, Armor, etc.
Crafting
Usage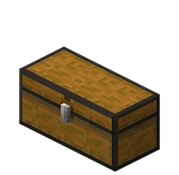 Chests are used to store objects. They can be interacted with, and the interface resembles the Player's Inventory.
As of Update 0.7.3, placing two Chests together creates a Double Chest or a Large Chest. This however, does not work for Ender Chests.
Trivia
Chests can be renamed using an Anvil. This will cause the Chest to display its name at the top of the GUI.

However, in Update 0.16.0 Chests ceased to display their custom name above the GUI.
As of Update 1.1, Chests once again display their custom name.

As of Update 0.14.0, Chests can be opened in Creative Mode.
Glass Panes, Iron Bars and Fences will not connect to Chests, since they are actually Block Entities.
Before Update 0.7.3, the Chests in Minecraft didn't have an opening animation.
Chests are often confused with Trapped Chests, since their textures are almost the same.
As of Update 0.15.0, Chests can be used to put on Donkeys and Mules. 
To avoid creating a Double Chest, the Player can place a Trapped Chest next to an ordinary Chest, and thus get two separate Chests next to each other.
There are 4 types of Chests: Ordinary Chests, Trapped Chests, Bonus Chests and Ender Chests.