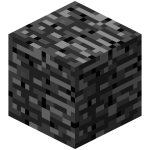 Blast Resistance is a Block's ability to withstand an explosive blast. The amount of resistance depends on the block, and how big the explosion is.
Most Blast Resistant Blocks
The Blocks and Items the list above are virtually impossible to blow up, with the exception of Obsidian (and below) which can be blown up by the explosive skulls of the Wither.
Trivia