Beacon



Type

Block

Tool Used

Stackable

Yes (64)

Luminosity

Yes (15)

Transparency

Translucent

First Appearance

Update 0.16.0
Beacons are Blocks that project a beam of light into the sky. They were added in Update 0.16.0.
Obtaining
Beacons can be obtained by Crafting them in a Crafting Table.
Crafting
Usage
Beacons mainly have two functional uses:
As a Light Source, providing a light level of 15.
A source of Status Effects, provided to Players within a certain range.
Activation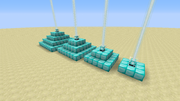 Beacons can be activated by placing them on a 9, 34, 83, or 164 Block pyramid of Blocks of Iron, Gold, Diamond or Emerald and giving them an open view to the sky. The Player also needs to activate it with an Iron Ingot, Gold Ingot, Diamond or Emerald. The Beacon will then activate and give off a beam of light. 
Powers
A Beacon can give the Player Status Effects when given one mineral.
Primary Powers
Speed I
Haste I
Resistance I (2-Level Pyramid)
Jump Boost I (2-Level Pyramid)
Strength I (3-Level Pyramid)
Secondary Powers
Regeneration I
All Primary Powers increased to Level II
Trivia
The Player can place a non-solid block, such as Ice, on top of the Beacon without disturbing the beam of light the Beacon projects.
The range of the Beacon to give status effects depends on the size and the quality of the pyramid.
As of Update 1.2 it is possible to change the color of the Beacon's beam using Stained Glass.