Anvil



Type

Block

Tool Used

Stackable

Yes (64)

Luminosity

None

Transparency

Translucent

First Appearance

Update 0.12.1
Anvils are interactive Blocks that were added in Update 0.12.1.
Obtaining
Anvils can be obtained by Crafting them in a Crafting Table.
Crafting
Usage
Anvils are used to enchant Items using Enchanted Books. They also allow the Player to rename and repair Items, combine Enchantments on certain Items by using Experience Points, zoom or copy Maps, and put names on Name Tags.
In an Anvil, even non-Tools can be Enchanted unlike the case of the Enchantment Table.
Enchanted Tool/Weapon + another Tool/Weapon => Repaired Tool/Weapon 
Enchanted Tool/Weapon + Enchanted Book => Enhanced Enchantment on Tool/Weapon 
Map + 8 Paper => Zoomed out Map 
Map + Empty Map => Two copies of a Map 
Anvils can also be used as a Weapon, as they inflict damage when they fall onto Players or Mobs.
Degrading
Anvils have a 12% chance of degrading once used, and may break once used enough times, on an average of 24 uses. Depending on how degraded they are, when mined, Anvils may drop as either a Slightly Damaged Anvil or as a Very Damaged Anvil. Causing Anvils to fall from heights also causes degradation.
The degraded types are also available in the Creative Inventory.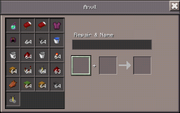 Trivia
They produce a 'heavy metal' sound when placed.
Anvils obey Gravity like Sand, Gravel, Snow, Dragon Eggs, Ignited TNT and Concrete Powder.
Falling Anvils are considered Entities, so they can be Fished. This is also true with other Gravity obeying Blocks.
Anvils can Enchant even non-Tools, unlike Enchantment Tables. (E.g: Shears, Flint and Steel, etc.)
Some Items are too expensive to combine or fix as they have been combined or fixed too many times.
Anvils damage Players and Mobs by 2 hearts (4 Health Points) if they drop on top of the Player/Mob.

This is a reference to the common cartoon trope where an anvil falls onto the victim's head.
Damage will be increased if dropped from greater heights.

During the Update 0.14.0 Beta Builds, Anvils still required Experience to be used in Creative Mode. This was fixed in a later build.